Choosing cards for your friends and loved ones for Christmas is not a difficult task but choosing the words for them is quite difficult. But don't worry in this post merry christmas messages for friends you will be fully guided. Christmas is a festival in which we can never forget our loved ones. When you are not with yourself, you miss them a lot. Share your feelings with your friends and let them know you miss them a lot. They are very close to your heart even though they are far from you.
A pretty, beautiful star that lights the Christmas night. You're a star of a friend and our friendship shines so bright!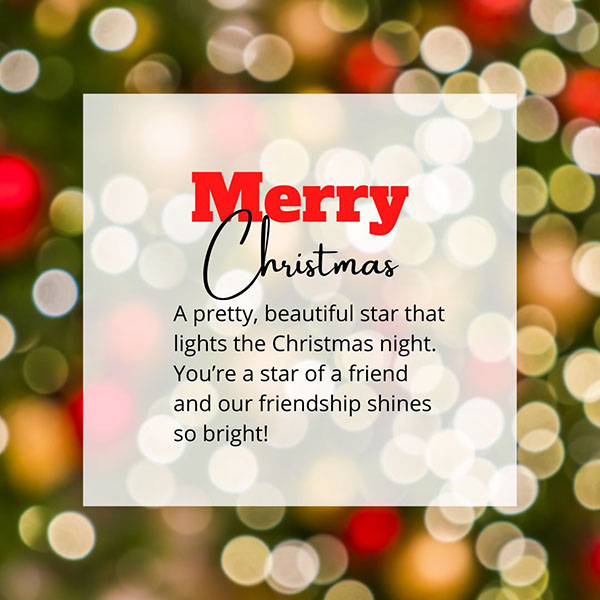 You're the first one to come to mind when I think of the great friends I have. Merry Christmas!
May the peace and joy of Christmas be with you today and throughout the New Year.
Every nutcracker needs a nut to feel complete. Thanks for being the nut in my life! Happy Holidays!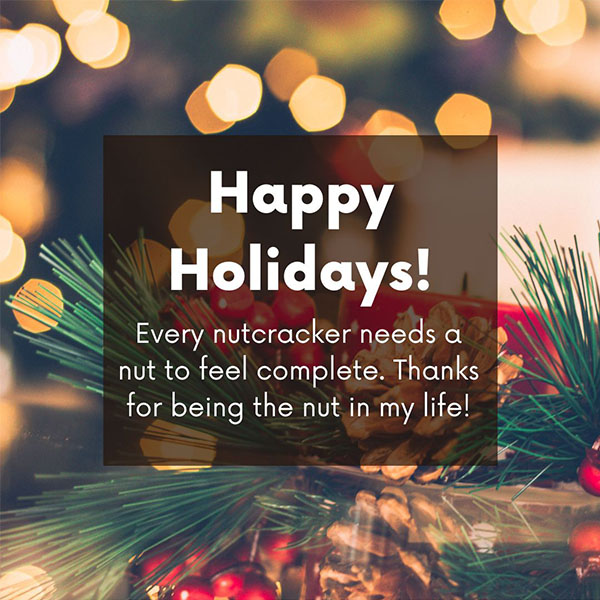 May your holiday be an amazing shopping filled escapade! Merry Christmas, Friend!
From our home to yours, we wish you a very Merry Christmas and a happy holiday season! Stay safe and take care.
At Christmas, everything is as great as can be especially our friendship. Merry Christmas, Friend!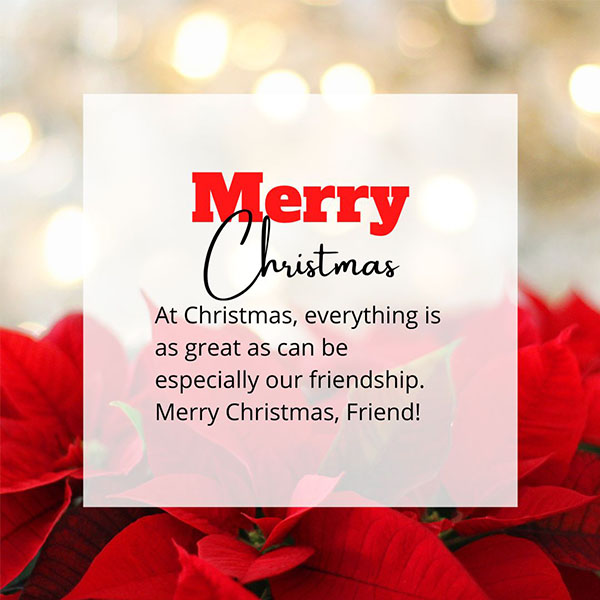 You're a lot like some of my Christmas tree ornaments. Bright, colorful. and a little bit cracked!
I hope your holiday celebrations are full of lots of fun, surprises, and magic!
Too cool. Too cute. Too special. That's what you are. Merry Christmas, Friend!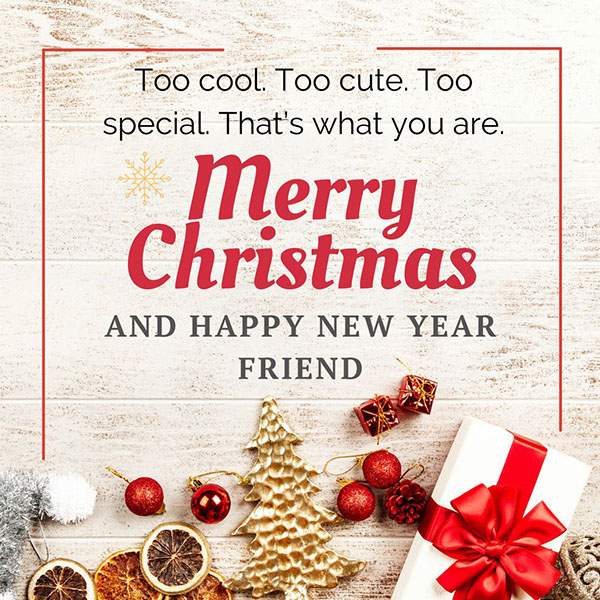 Not every gift will be wrapped up or presented on a box. Some will be shows of kindness that touch the heart. That's the gift of friendship that you've given me. Merry Christmas!
We may not talk all of the time, but when we do boy, do we have a great time! Merry Christmas, Dear Friend!
When we talk, it's like good times just roll and roll. Our friendship is phenomenal. Merry Christmas!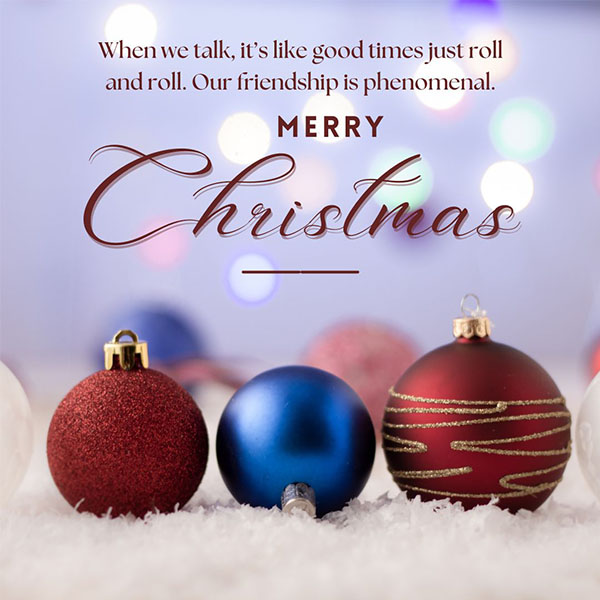 I feel like we just talked yesterday, Friend. My mind always wanders back to our great little chats and when it does, I remember how grateful I am that we are friends. Merry Christmas!
I hope that happiness totally takes over your holiday!
I like you because you accept me for who and what I am. That's what friendship is all about, and you're perfect at it! Merry Christmas!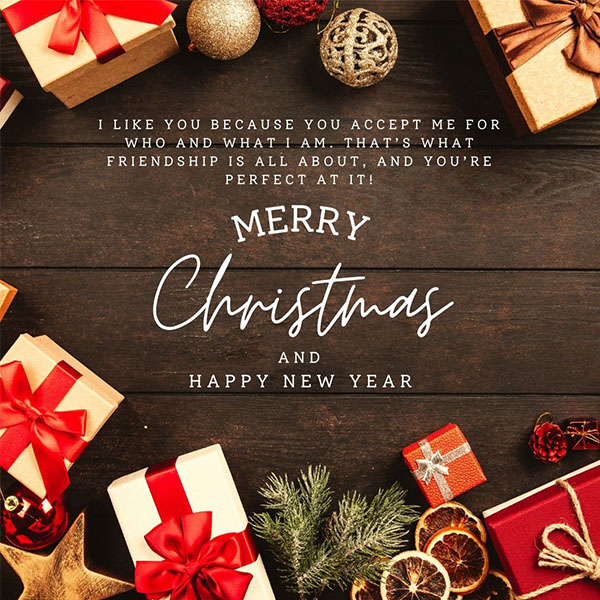 Your friendship has been one of my most prized and cherished treasures. Happy Holidays!
Being your friend means more to me than you know. Merry Christmas, Buddy!
My Christmas just got much merrier because I have you for a friend. Merry Christmas!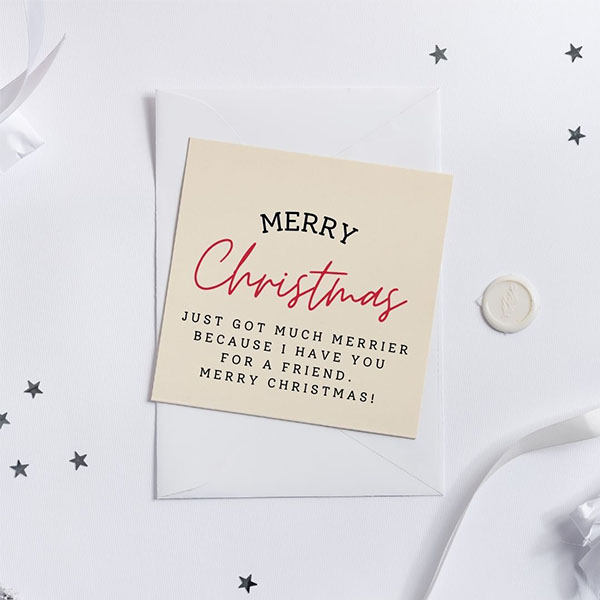 Christmas is a time of splurging. So, splurge away, my friend!
2 friends like us can have a Christmas that 2 cool 2-gether. Merry Christmas!
Though we are separated by miles, thoughts of you and our friendship always brings me tons of smiles. Merry Christmas, Friend!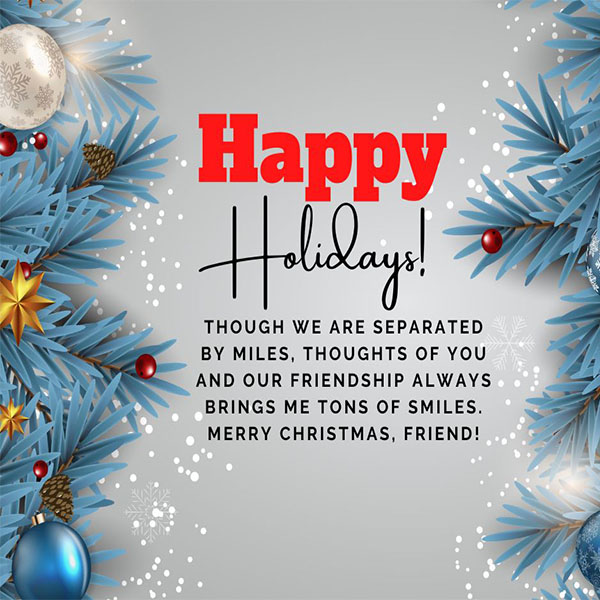 Throughout the year, I've been totally blessed with a friend like you. Isn't life just wonderful!? Merry Christmas!
I really appreciate your friendship. It is a wonderful gift that I really cherish and adore. This holiday season is special because I have the pleasure of sharing it with great friends like you. Happy Holidays!
I'm so glad you're my friend. You are like a snowflake. You're one of a kind not flaky, just special! Merry Christmas!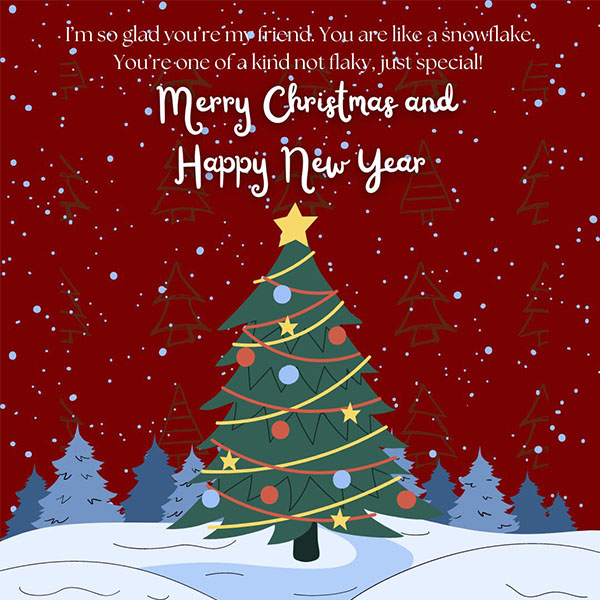 You know, you're the best at adding a good amount of merry to my life. Merry Christmas!
You're just a purr-fect friend to have. Merry Christmas!
I know that you're always there to hear me when I need a listening ear. I trust you with who I am, my feelings, and my thoughts. You are a FABULOUS friend! Thanks! Merry Christmas!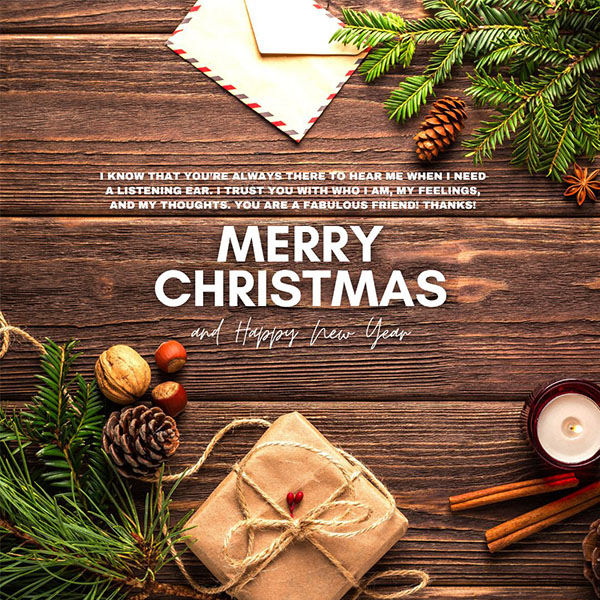 During the holidays, friends help keep the season bright.
Cookies, pies, and a bunch of good times. Happy Holidays To My Buddy!
Sweet, caring, loving, and full of life. That's totally who you are and I'm so thankful for you this holiday season. Merry Christmas!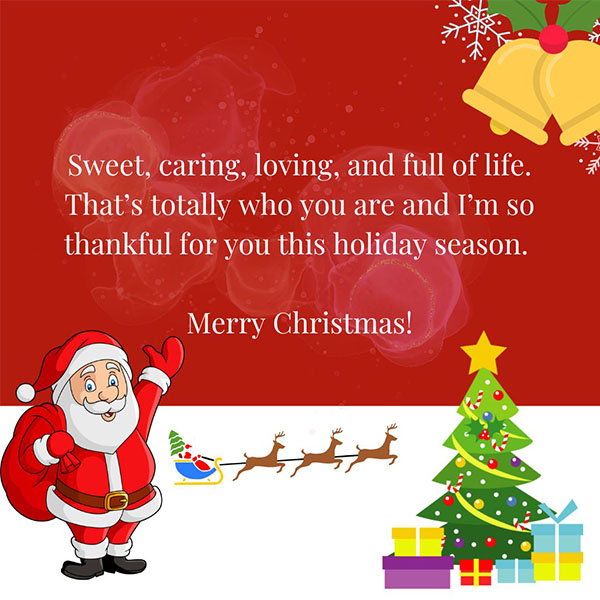 Merry Christmas! With many good wishes for the holiday season and the coming year.
You are my forever friend. I will forever be thankful that I had you in my life. I will forever appreciate your kindness. I will forever have fond thoughts of you at Christmas and always. Happy Holidays, Forever Friend!
One way that God shows His care is by giving us special people who are always there. Merry Christmas, Friend!
Friends like you make the best Christmas gifts. Merry Christmas, Friend!
For as much as things change, they stay the same. We have changed over the years, but our friendship has lasted and remained as strong as ever. Merry Christmas!
May your Christmas sparkle with moments of love, laughter and goodwill. And may the year ahead be full of contentment and joy. Have a Merry Christmas!
You always know how to make me laugh. That's one of the reasons that I really cherish our friendship and you! Merry Christmas!
You are an extra special friend. You give me extra comfort when I'm down and you have always been extra nice to me. I feel so lucky to have you in my life. Hope you have an extra special holiday!
Christmas surprises, wishes, and joy to you!
I hope you love the present you told me to buy for you. Merry Christmas!
Read More: Funny Christmas Card Messages