If you are looking for Employee Appreciation Quotes then you have come to the right place. No organization or company can grow unless it takes care of its workers. When a company rewards its employees for their work, takes care of their health, employees perform better in return and company reputation is also built. Being a human being, it is the duty of every person to take care of and encourage those working under him.
If you also want to share some words of encouragement with your employees, then Employee Appreciation Quotes To Say Thank You will help you.
Thank You Quotes for Employees from Boss
Thank you for making every day a great day at the office. The office wouldn't be the same without you!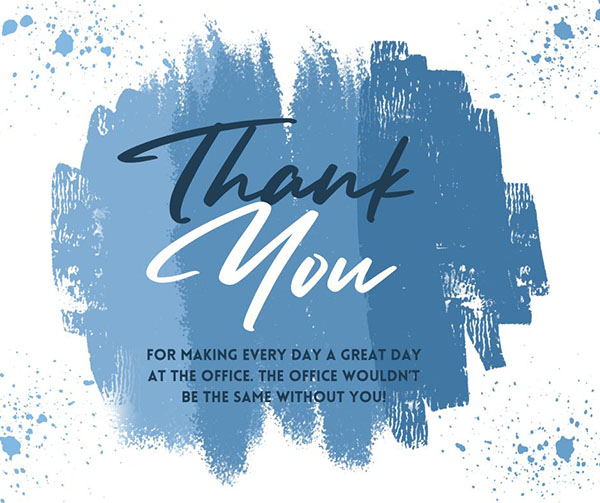 Thank you for always being such a team player in everything you do. The team wouldn't be the same without you!
Thank you for taking the time to always help coworkers when they need help!
We love seeing you bring our company values to life through your hard work.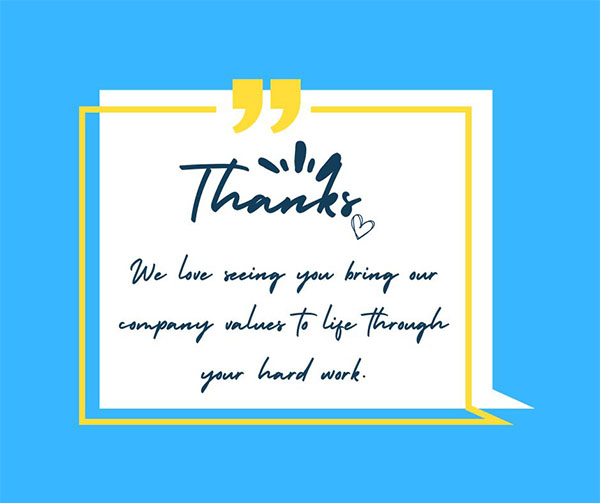 People make the difference. Thank you for making a difference in our workplace.
Appreciation can make a day, even change a life. The company is proud to have you as an employee and wishes to recognize you for your efforts.
Thank you for always going the extra mile to ensure new joiners feel welcome in their first week.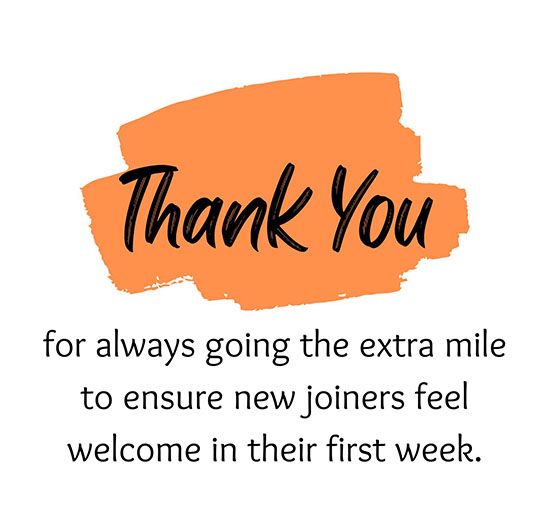 Your extraordinary attention to detail took this project to another level! Thank you. I personally wanted to let you know how much of a positive impact your effort has on the whole team with this gift of employee recognition.
The perfect employee is one that motivates his boss as much as his boss motivates him.
You are always going above and beyond to upgrade your skills at any given chance.
Appreciation Quotes for Outstanding Performance
You. Do. Great. Work. You deserve a huge thank you from the entire organization. Thank you!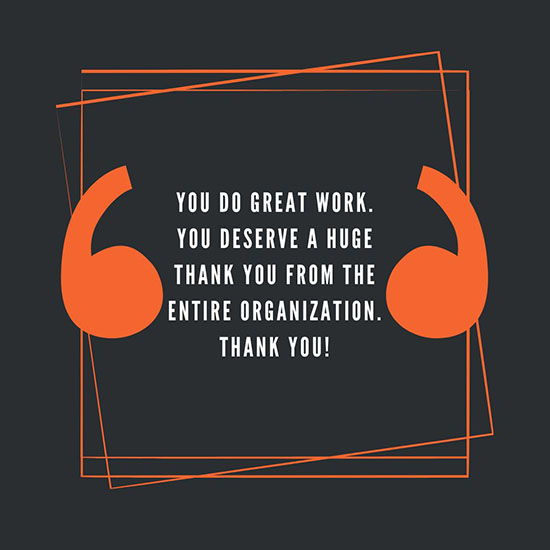 You take the "I'm" out of impossible! Thanks for all you do and helping us achieve great success. Your efforts are hugely appreciated.
I'm so grateful for all of your hard work and service to the company. It definitely hasn't gone unnoticed and I cannot express my gratitude enough! Thank you for brining so much value and contributing to the company's success.
Quotes for Teamwork and Collaboration
You have been a valuable member of our team and we have noticed all the hard work and dedication you have put in.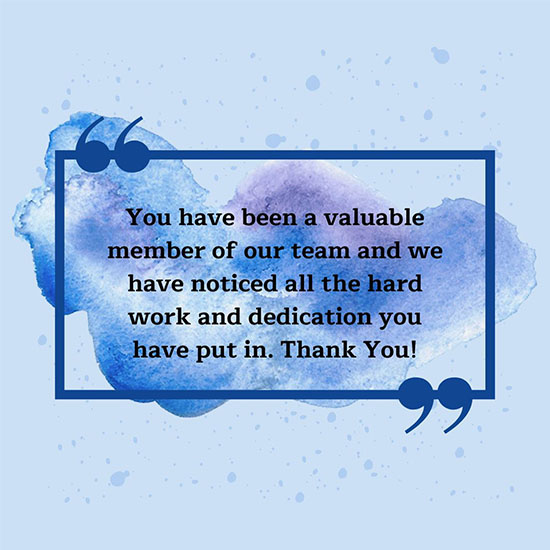 You're a rockstar! Thanks for bringing the energy, ideas and value to the office every single day. You are an integral part of our team.
We love seeing the habit of peer to peer recognition among the team. Keep it up!
Hard-working employees like you bring out the best in others. Thank you for being an inspiration to your colleagues every day!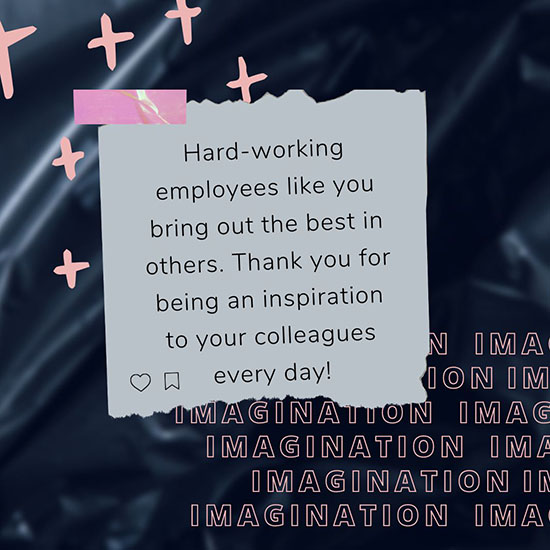 Thank you for always brining your sense of humour and hard word and dedication to the company, you make a huge difference to the entire team, company and organization. The workplace wouldn't be the same without you. Thank you.
I would like to express my gratitude for your recent performance. You are a huge inspiration to the rest of the team and the company is very fortunate to have you.
Your hard work, commitment and dedication is an example to everyone on our team! Thank you for being your best every day!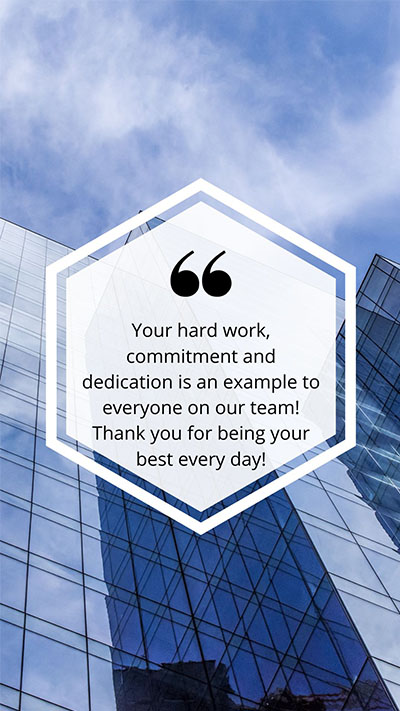 I want to say thank you on behalf of the whole organization. Your contribution to our work proves what we already knew, that you are a strong team player and a connoisseur of excellence.
Thanks to your collaborative spirit, you managed to break the ice even with our introverted employees!
I appreciate the time and effort you put into our last team-building activity. Now, everyone's hooked on Avalon thanks to you!
Your innovative thinking and valuable insight have given a brand new meaning to our current project. Let's nail this presentation and give it one last push, team!
Your sense of humour is what keeps the team going when during tough days!
Game night was such a hit thanks to you. Good work on getting the whole team together and putting your Codenames skills to the test!
Appreciation Quotes for Exemplary Behavior
The perfect employee lifts others up instead of pushing them down. Thank you for being a positive influence and brining a brilliant sense of humor!

No matter what project you're tackling, you always bring invaluable insight, ideas and a brilliant attitude to the task every day. I am proud of you and look forward to more moments like this, where I am rewarding you for more outstanding performance.
I love that you always come to work with a bright smile and a fantastic attitude!
Employees like you can even make Mondays a joy. Thank you for your hard work and super attitude, it brings a real boost to the workplace.
Did you know your colleagues are always talking about your helpful attitude? Thank you for being such a role model to all!
Thanks for not going 'nuts' when everything around you seems like a 'circus'. Your dedication, attitude and service adds so much to the business. Thank you. I appreciate you.
I can't thank you enough for your energy and effort. I appreciate everything you do. Thank you for always bringing your positive attitude, and top effort to each project.
Employees Appreciation Day Quotes
Employee appreciation day is overrated. We believe employees like you deserve to hear appreciation words every day.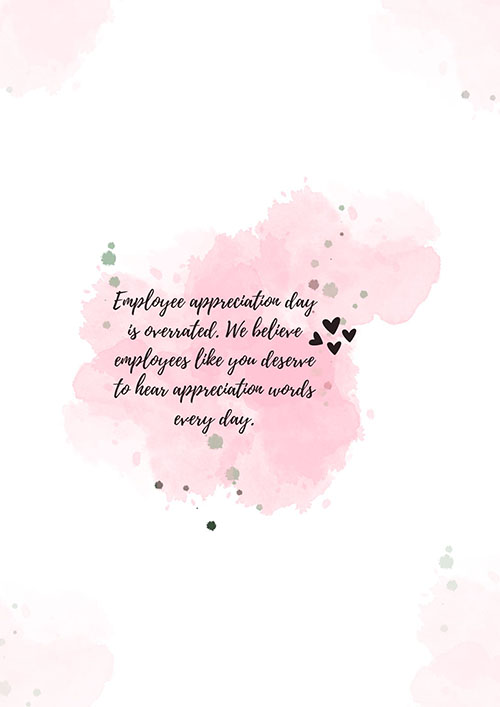 We've made it to another employee appreciation day—and it's just another chance for us to express our gratitude for your first-rate work! Thank you for being such a great inspiration to your coworkers.
Congratulations. You are our employee of the month. Your performance this month has been outstanding. Thank you for your efforts. We are very grateful for your efforts.
May this little token of appreciation motivate you to work harder in the days to come. Happy employee appreciation day!
Reward and Recognition Quotes for Employees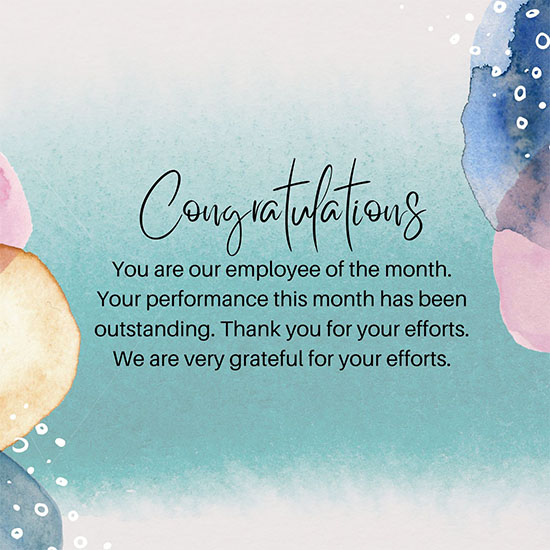 You've worked so hard to get where you are. Congratulations on your well-earned reward!
You've been crushing your personal goals lately. Congratulations!

Great work. I really appreciate your work on this project, here is a gift to say thank you for your recent success.
Well done! Your hard work and commitment on this project hasn't gone unnoticed. You're and inspiration to everyone.
Read More: Appreciation Quotes For Healthcare Workers