Coffee is an interesting and excellent drink. Some people love it so much that they don't want to get out of bed until they wake up in the morning and some people can't function without taking it. Drinking coffee is even more fun when you are drinking it with your loved one or in a gathering of friends and laugh as you sip your coffee. Some short and funny coffee quotes have been collected, share them with friends and enjoy.
Coffee Loves One Liners Funny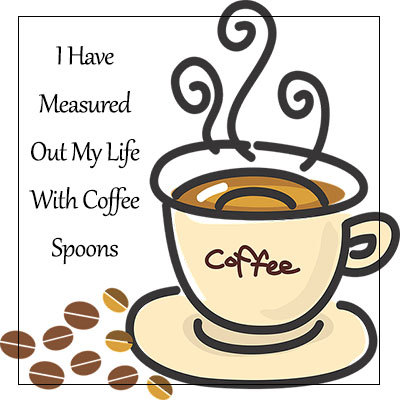 I have measured out my life with coffee spoons.—T.S. Eliot
♥Ξ♥Ξ♥Ξ♥Ξ♥Ξ♥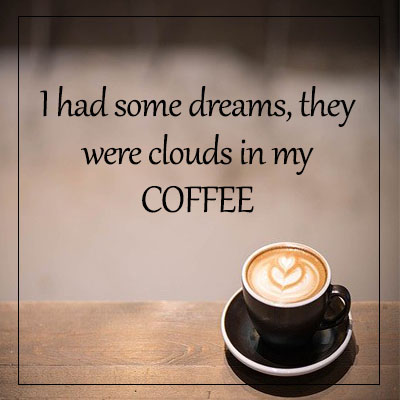 I had some dreams, they were clouds in my coffee.—Carly Simon
♥Ξ♥Ξ♥Ξ♥Ξ♥Ξ♥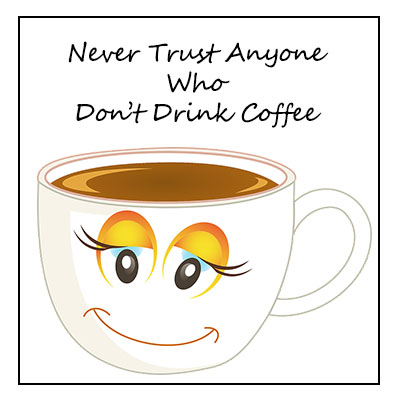 Never trust anyone who doesn't drink coffee.—AJ Lee
♥Ξ♥Ξ♥Ξ♥Ξ♥Ξ♥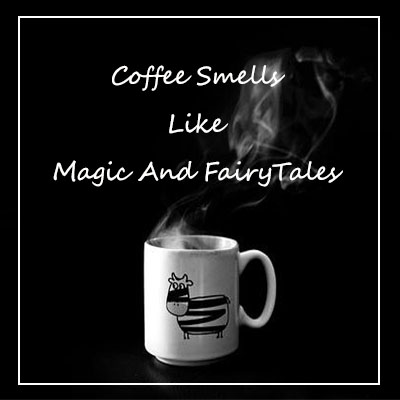 Coffee smells like magic and fairytales.—Allison Czarnecki
♥Ξ♥Ξ♥Ξ♥Ξ♥Ξ♥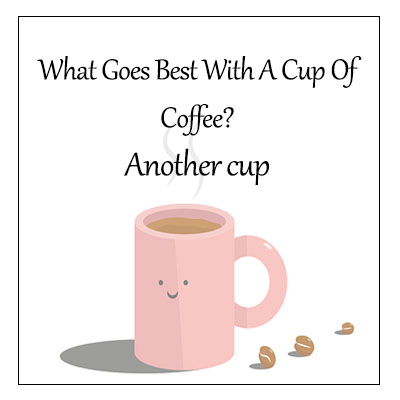 What goes best with a cup of coffee? Another cup.—Henry Rollins
♥Ξ♥Ξ♥Ξ♥Ξ♥Ξ♥
Coffee smells like freshly ground heaven.—Jesse Lane Adams
♥Ξ♥Ξ♥Ξ♥Ξ♥Ξ♥
May your coffee be strong and your Monday be short.—Unknown
♥Ξ♥Ξ♥Ξ♥Ξ♥Ξ♥
Never underestimate the power of a good cup of coffee.–Ursula Vernon
♥Ξ♥Ξ♥Ξ♥Ξ♥Ξ♥
I'd rather take coffee than compliments just now.—Louisa May Alcott
♥Ξ♥Ξ♥Ξ♥Ξ♥Ξ♥
Coffee, the favorite drink of the civilized world.—Thomas Jefferson
♥Ξ♥Ξ♥Ξ♥Ξ♥Ξ♥
Funny Coffee Quotes Short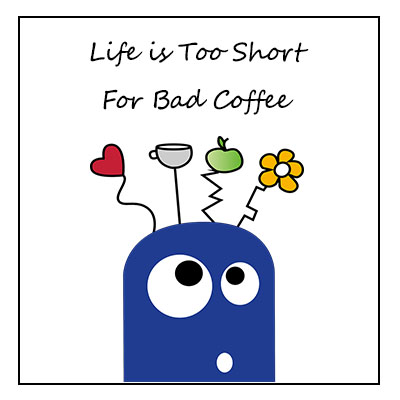 Life's too short for bad coffee.—Gord Downie
♥Ξ♥Ξ♥Ξ♥Ξ♥Ξ♥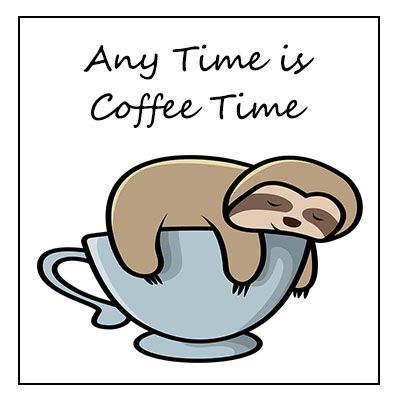 Any time is coffee time.—Unknown
♥Ξ♥Ξ♥Ξ♥Ξ♥Ξ♥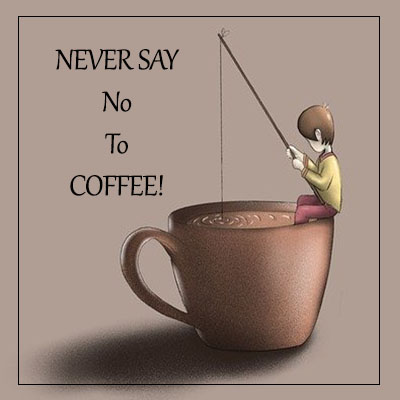 Never say no to coffee.–Cesar
♥Ξ♥Ξ♥Ξ♥Ξ♥Ξ♥
Coffee is a language itself.—Jackie Chan
♥Ξ♥Ξ♥Ξ♥Ξ♥Ξ♥
I never laugh until I've had my coffee.—Clark Gable
♥Ξ♥Ξ♥Ξ♥Ξ♥Ξ♥
Coffee first. Schemes later.—Leanna Renee Hieber
♥Ξ♥Ξ♥Ξ♥Ξ♥Ξ♥
Coffee: creative lighter fluid.—Floyd Maxwell
♥Ξ♥Ξ♥Ξ♥Ξ♥Ξ♥
Life is scary without coffee.—Unknown
♥Ξ♥Ξ♥Ξ♥Ξ♥Ξ♥
Less talk, more coffee.—Unknown[/su_quote]
♥Ξ♥Ξ♥Ξ♥Ξ♥Ξ♥
Given enough coffee, I could rule the world.—Terry Pratchett
♥Ξ♥Ξ♥Ξ♥Ξ♥Ξ♥
Inspirational Sassy Coffee Quotes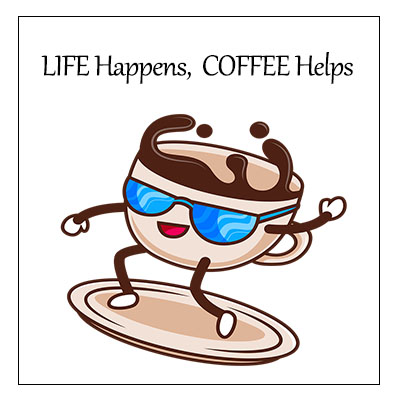 Life Happens
Coffee Helps
♥Ξ♥Ξ♥Ξ♥Ξ♥Ξ♥
COFFEE
and
Then
The World
♥Ξ♥Ξ♥Ξ♥Ξ♥Ξ♥
Rainy Days
and
Coffee Dates
♥Ξ♥Ξ♥Ξ♥Ξ♥Ξ♥
♥Ξ♥Ξ♥Ξ♥Ξ♥Ξ♥
COFFEE
because
ADULTING
is hard
♥Ξ♥Ξ♥Ξ♥Ξ♥Ξ♥
Fueled by
COFFEE
and
CHAOS
♥Ξ♥Ξ♥Ξ♥Ξ♥Ξ♥
FIRST I DRINK
THE
Coffee
THEN I DO
The Things
♥Ξ♥Ξ♥Ξ♥Ξ♥Ξ♥
Coffee
SCRUBS
and
RUBBER
gloves
♥Ξ♥Ξ♥Ξ♥Ξ♥Ξ♥
COFFEE
is an
ESSENTIAL
Part of My
PLEASANT
Attitude
♥Ξ♥Ξ♥Ξ♥Ξ♥Ξ♥
♥Ξ♥Ξ♥Ξ♥Ξ♥Ξ♥
Good Morning Coffee Quotes Funny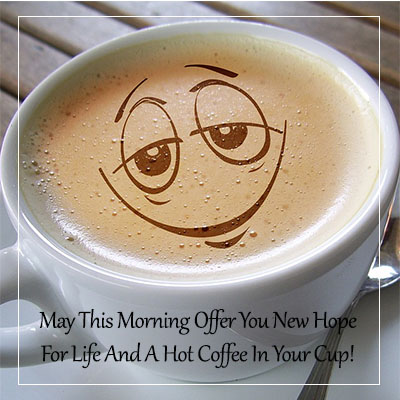 May this morning offer you new hope for life and a hot coffee in your cup!
♥Ξ♥Ξ♥Ξ♥Ξ♥Ξ♥
Good morning my love. I have measured out our love with coffee spoons.
♥Ξ♥Ξ♥Ξ♥Ξ♥Ξ♥
Today's goals: Coffee and kindness. Maybe two coffees, and then kindness.
♥Ξ♥Ξ♥Ξ♥Ξ♥Ξ♥
Rise and shine! It's coffee time!
♥Ξ♥Ξ♥Ξ♥Ξ♥Ξ♥
Great mornings start with the heavenly aroma of coffee.
♥Ξ♥Ξ♥Ξ♥Ξ♥Ξ♥
Wake up! A sweet morning is waiting for you.
♥Ξ♥Ξ♥Ξ♥Ξ♥Ξ♥
May your worries be light. may your joy be great. May your cup overflow. Good morning!
♥Ξ♥Ξ♥Ξ♥Ξ♥Ξ♥
Today is going to be a great day, Coffee Overflow in the morning. Good morning!
♥Ξ♥Ξ♥Ξ♥Ξ♥Ξ♥
You can't have a bad day when you start your morning with coffee.
♥Ξ♥Ξ♥Ξ♥Ξ♥Ξ♥
Nothing says coffee like six in the morning.
♥Ξ♥Ξ♥Ξ♥Ξ♥Ξ♥
Funny Coffee Quotes for Instagram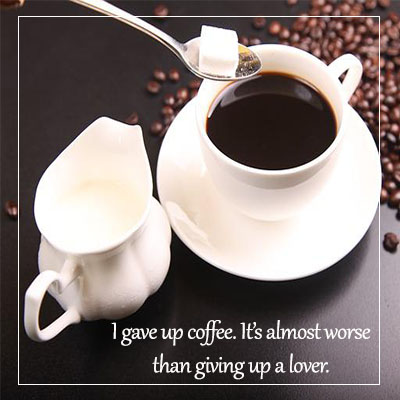 I gave up coffee. It's almost worse than giving up a lover.—Sandra Bullock
♥Ξ♥Ξ♥Ξ♥Ξ♥Ξ♥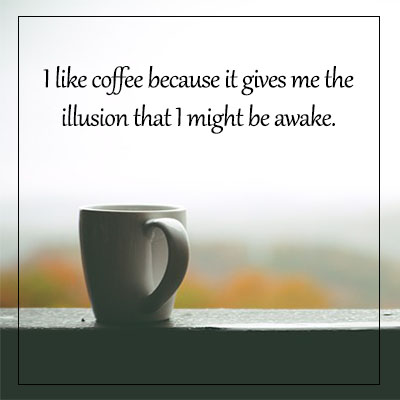 I like coffee because it gives me the illusion that I might be awake.—Lewis Black
♥Ξ♥Ξ♥Ξ♥Ξ♥Ξ♥
I would rather suffer from coffee than be senseless.—Napoleon Bonaparte
♥Ξ♥Ξ♥Ξ♥Ξ♥Ξ♥
Even bad coffee is better than no coffee at all. —David Lynch
♥Ξ♥Ξ♥Ξ♥Ξ♥Ξ♥
A yawn is a silent scream for coffee. —Unknown
♥Ξ♥Ξ♥Ξ♥Ξ♥Ξ♥
Coffee in England is just toasted milk. —Christopher Fry
♥Ξ♥Ξ♥Ξ♥Ξ♥Ξ♥
Adventure in life is good; consistency in coffee even better. —Justina Chen
♥Ξ♥Ξ♥Ξ♥Ξ♥Ξ♥
The second cup of coffee is never as good as the first. —Theodore Roosevelt
♥Ξ♥Ξ♥Ξ♥Ξ♥Ξ♥
I can't imagine a day without coffee. I can't imagine! —Howard Schultz
♥Ξ♥Ξ♥Ξ♥Ξ♥Ξ♥
Smell the roses. Smell the coffee. Whatever it is that makes you happy.—Rita Moreno
♥Ξ♥Ξ♥Ξ♥Ξ♥Ξ♥