Football isn't all about the past, it's also about the fun while playing out in the field or while watching the game progress. Football is a game which can you watch with your family, friends and of course with your kids. Its is a time to chill and joy. It does not matter whether you are watching this game with family or friends. It's always source of happiness and will bring smile on your face and satisfy mental level. Some quotes has been selected for football lover as well football players which will give inspiration and motivation both for audience and players.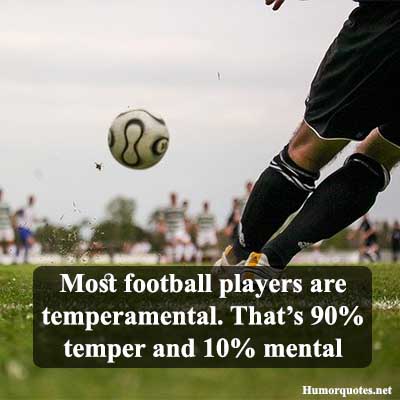 Most football players are temperamental. That's 90% temper and 10% mental. – Doug Plank

The team was the best player on the pitch.

If a man watches three football games in a row, he should be declared legally dead. – Erma Bombeck

Sometimes in football, you have to score goals. – Thierry Henry

The local girls are far uglier than the ones in Belgrade. Our women are far prettier and they don't drink as much beer.

Football is, after all, a wonderful way to get rid of your aggressions without going to jail for it.  – Heywood Hale Braun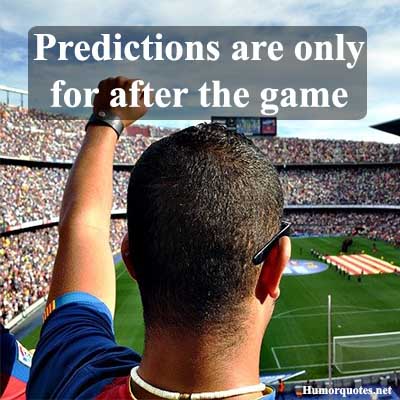 Predictions are only for after the game.

Football: A sport that bears the same relation to education that bullfighting does to agriculture.  – Elbert Hubbard

It's an incredible rise to stardom. At 17 you're more likely to get a call from Michael Jackson than Sven Goran Eriksson.

We all know how the French are, and Platini is French, and he believes he is better than rest.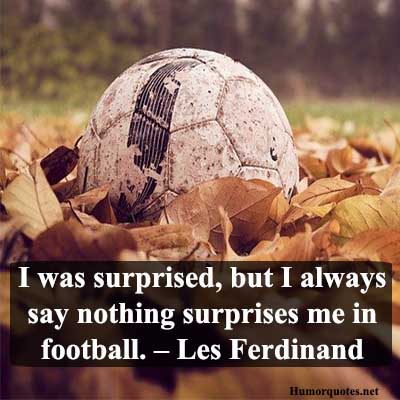 I was surprised, but I always say nothing surprises me in football. – Les Ferdinand

Football: A sport that bears the same relation to education that bullfighting does to agriculture.  – Elbert Hubbard

Julian Dicks is everywhere. It's like they've got eleven Dicks on the field.

If you don't believe you can win, there is no point in getting out of bed at the end of the day. – Neville Southall

We must have had 99 percent of the game. It was the other three percent that cost us the match.

I asked my son who his favorite player was. I expected him to say 'You, Dad'. But he said, Thierry Henry. – Didier Drogba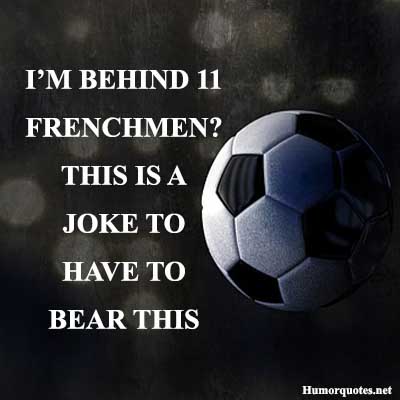 I'm behind 11 Frenchmen? This is a joke to have to hear this.

I always used to put my right boot on first, and then obviously my right sock.

I have one selfie on my smartphone. That's with Messi. Cristiano was in the room, as well.  – Jürgen Klopp

He covers every blade of grass out there… but that's only because his first touch is so crap.

Football is like life – it requires perseverance, self-denial, hard work, sacrifice, dedication, and respect for authority. – Vince Lombardi

They're the second best team in the world, and there's no higher praise than that.
We lost because we didn't win.

American football makes rugby look like a Tupperware party. – Sue Lawley

They're lucky I didn't come 10 years ago because I would be the president today.  – Zlatan Ibrahimovic

I wouldn't ever set out to hurt anyone deliberately unless it was, you know, important -like a league game or something. – Dick Butkus

Some people think football is a matter of life and death. I don't like that attitude. I can assure them it is much more serious than that. – Bill Shankly

It was really difficult for us, playing in the midday sun with that three o'clock kick-off. – David Beckham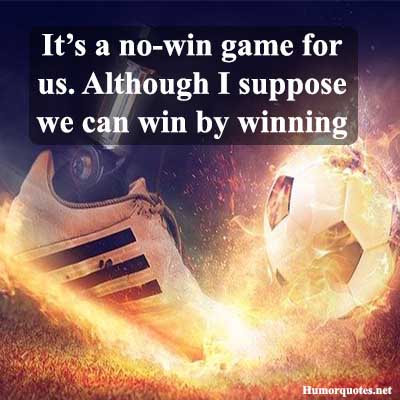 It's a no-win game for us. Although I suppose we can win by winning. – Gary Doherty

I dream of playing for a club like Manchester United, and now here I am in Liverpool. – Sander Westerveld

Football was my only hope in life. I wasn't too good at school. To give you an idea, I managed to fail art in a class where my uncle was the teacher.  – Richarlison

I had no idea who my teammates at Genoa were when I signed. So I turned on my PlayStation and looked them up on FIFA.  – Krzysztof Piątek

The reason women don't play football is that 11 of them would never wear the same outfit in public. – Phyllis Diller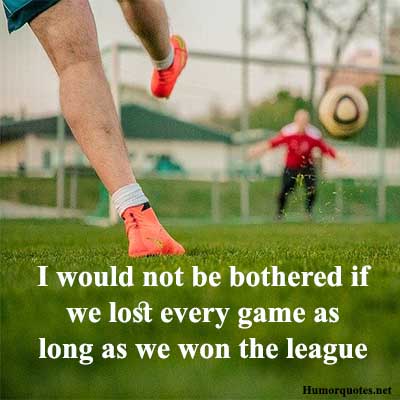 I would not be bothered if we lost every game as long as we won the league. – Mark Viduka

I don't believe in superstitions. I just do certain things because I'm scared in case something will happen if I don't do them. – Michael Owen

I've been consistent in patches this season. – Theo Walcott

I shouldn't say this – definitely not now! But when I was young I was a massive United fan. – Raheem Sterling

You get to hit the hardest when trying to run or hide from a problem. Like the defense on a football field, putting all focus on evading only one defender is asking to be blindsided. – Criss Jami
If he wants to play on his own, he can go and play tennis.

Without being too harsh on David Beckham, he cost us the match. – Ian Wright

You have to be gentle with the ball like you are gentle with a woman. – Dimitar Berbatov

Have Tottenham closed the gap on Arsenal? The last time I checked they were still 4 miles and 11 titles away. – Arsene Wenger

But a college needs something else besides education. And what this college need is a good football team and you can't have a good football team unless you have good football players.–Bert Kalmar

I might be eating my words but I reckon Real Madrid suit us more than Barcelona.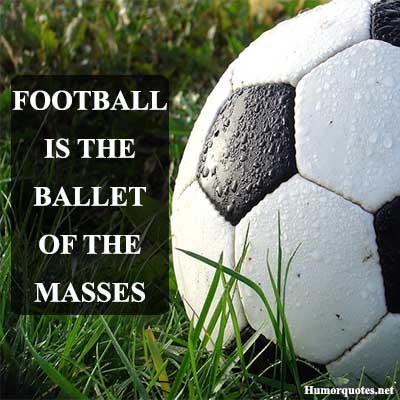 Football is the ballet of the masses.  – Dmitri Shostakovich

I can see the carrot at the end of the tunnel. – Stuart Pearce

My wife doesn't like football. One day she called me 10 minutes before a game to find out where I was. – Peter Crouch

Well, I can play in the centre, on the right, and occasionally on the left side.

Books are vital to learning. Half the population doesn't go to football matches but that doesn't make football any less important. – John Sutherland

I never make predictions, and I never will. – Paul Gascoigne

I would not be bothered if we lost every game as long as we won the league – Mark Viduka

I always used to put my right boot on first, and then obviously my right sock. – Barry Venison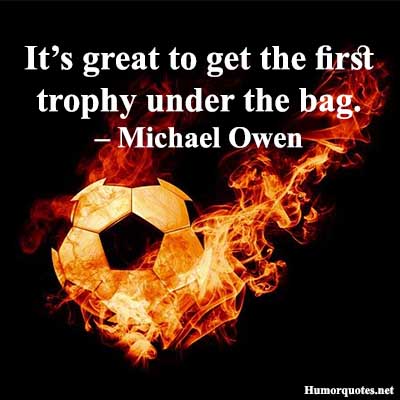 It's great to get the first trophy under the bag. – Michael Owen

He's leaving because he's Guardiola's favorite. If it's anyone's fault, it's mine. I can't make myself shorter and learn Spanish. – Jurgen Klopp

Left alone with our own heads on, we can be pretty mental. – Tony Adams

We can't run. We can't pass. We can't stop the run. We can't stop the pass. We can't kick. Other than that, we're just not a very good football team right now.  – Bruce Coslet

My parents have been there for me, ever since I was about 7.  – David Beckham

The stars above the Italian club's badges show you how many times they have won the Gazette. – David James
Read More: Funny Running Quotes