Golf is an outdoor game which is played in Ireland and Scotland. When you meet golf player you will feel joy and pleasure after conversation with that player. Here are some Quotes about Golf which will prove that you are also interested in playing Golf and make your conversation like professional and bring a cheerful smile and make you feel lighthearted. A Golfer never be sad if you use these quotations as a praise for him or her. Find best funny golf quotes and sayings from renowned people. These remarkably funny golf sayings for the best of chuckles.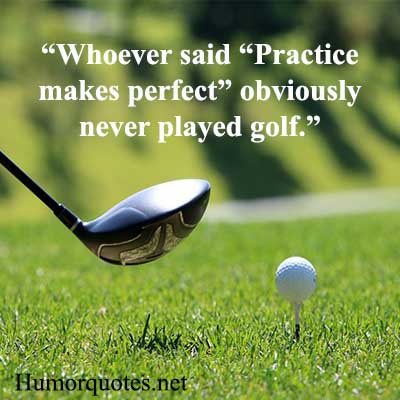 "Whoever said "Practice makes perfect" obviously never played golf."

"A great deal of unnecessarily bad golf is played in this world." ‒ Harry Vardon

"The most important shot in golf is the next one." ‒ Ben Hogan.

"I found Jesus on the golf course. Well at least I heard his name several times."

"I know I am getting better at golf because I am hitting fewer spectators." ‒ Gerald Ford.

"As you walk down the fairway of life, you must smell the roses, for you only get to play one round." ‒ Ben Hogan.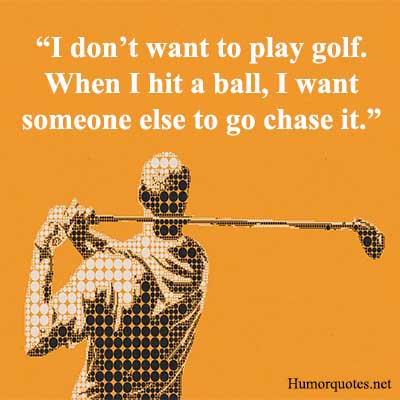 "I don't want to play golf. When I hit a ball, I want someone else to go chase it." – Rogers Hornsby

"A major golf tournament is 40,000 sadists watching 144 masochists." ‒ Thomas Boswell.

""If you watch a game, it's fun. If you play at it, it's recreation. If you work at it, it's golf." ‒ Bob Hope.

"I am past writing angst songs for kids. My angst is when I can't get my Porsche roof up and when I can't get my golf handicap down." ‒ Alice Cooper.

"Ours is a youth culture, and like a golf tournament, we honor only low scores." ‒ Bill Cosby.

"I regard golf as an expensive way of playing marbles." ‒ G. K. Chesterton.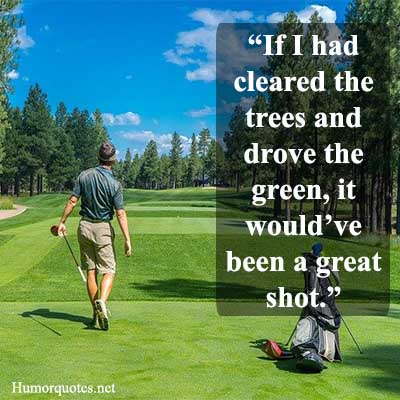 "If I had cleared the trees and drove the green, it would've been a great shot." – Sam Snead

"Golf and sex are about the only things you can enjoy without being good at." – Jimmy Demaret

"Golf has probably kept more people sane than psychiatrists have." ‒ Harvey Penick.

"The place of the father in the modern suburban family is a very small one – particularly if he plays golf, which he usually does." ‒ Bertrand Russell.

"Relax? How can anybody relax and play golf? You have to grip the club, don't you?" ‒ Ben Hogan.

"You've just got one problem. You stand too close to the ball after you've hit it." – Sam Snead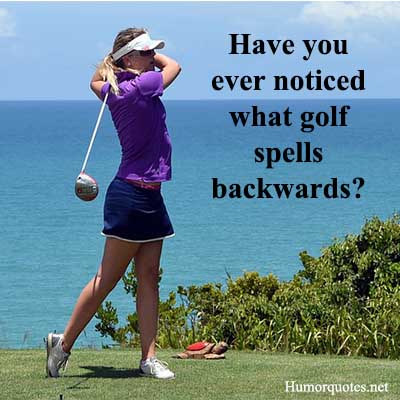 "Have you ever noticed what golf spells backwards?" – Al Boliska

"I'm addicted. I'm addicted to golf." ‒ Tiger Woods.

"May thy ball lie in green pastures, and not in still waters." ‒ Ben Hogan.

"If you think it's hard to meet new people, try picking up the wrong golf ball." ‒ Jack Lemmon.

"Golf is a good walk spoiled." ‒ Mark Twain.

"Golf is a billion-dollar industry devoted entirely to hope." ‒ Deepak Chopra

"You know what the game of golf is, don't you? It's basketball for people who can't jump and chess for people who can't think." ‒ Tom Robbins.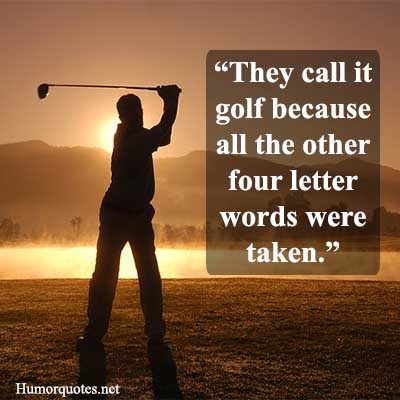 "They call it golf because all the other four letter words were taken." ‒ Raymond Flyod.

"Swing hard, in case you hit it!"

"Although golf was originally restricted to wealthy, overweight Protestants, today it's open to anybody who owns hideous clothing." ‒ Dave Berry

"The uglier a man's legs are, the better he plays golf – it's almost a law." – H. G. Wells

"I never found golf interesting, but then I learned thats just where men go to let go of there anger."

"The only time my prayers are never answered is on the golf course." – Billy Graham

"Actually, the only time I ever took out a one-iron was to kill a tarantula. And I took a 7 to do that." ‒ Jim Murray.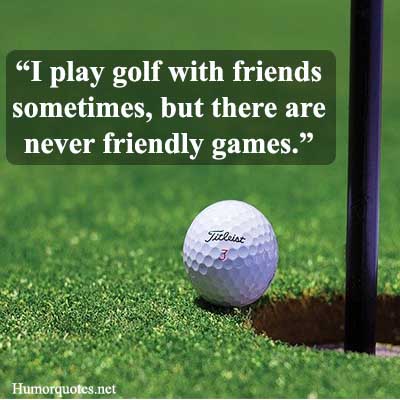 "I play golf with friends sometimes, but there are never friendly games." ‒  Ben Hogan.

"Give me golf clubs, fresh air and a beautiful partner, and you can keep the clubs and the fresh air." ‒ Jack Benny.

"If a lot of people gripped a knife and fork the way they do a golf club, they'd starve to death." ‒ Sam Snead.

"There is no such thing as natural touch. Touch is something you create by hitting millions of golf balls." ‒ Lee Trevino.

"I've seen lifelong friends drift apart over golf just because one could play better, but the other counted better." ‒ Stephen Leacock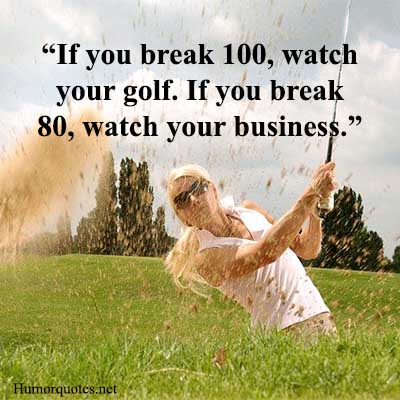 "If you break 100, watch your golf. If you break 80, watch your business." ‒ Joey Lauren Adams

"Golf is a game that mirrors life. Golf is both a mystical journey of joy and sorrow and a physical journey of cause and effect." ‒ Matthew E. Adams

"A golf course is the epitome of all that is purely transitory in the universe; a space not to dwell in, but to get over as quickly as possible." ‒ Jean Giraudoux

"Don't force your kids into sports. I never was. To this day, my dad has never asked me to go play golf. I ask him." ‒ Tiger Woods.

"If you are caught in a storm and are afraid of lightning hold up a 1 iron. Even God can't hit a 1 iron." ‒ Lee Trevino.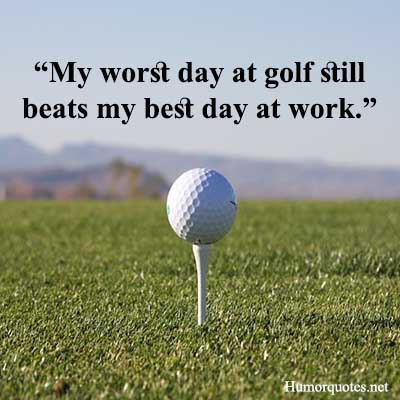 "My worst day at golf still beats my best day at work."

"Don't play too much golf. Two rounds a day are plenty." ‒ Harry Vardon.

"After years of patient study (and with cricket there can be no other kind), I have decided that there is nothing wrong with the game that the introduction of golf carts wouldn't fix in a hurry." ‒ Bill Bryson

"Golf is a puzzle without an answer. I've played the game for 40 years and I still haven't the slightest idea how to play." ‒ Gary Player.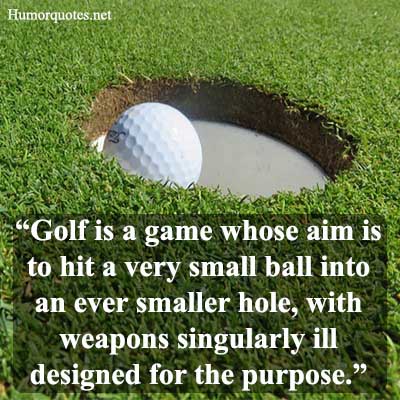 "Golf is a game whose aim is to hit a very small ball into an ever smaller hole, with weapons singularly ill-designed for the purpose." ‒ Winston S. Churchill.

"Never on any golf course have I been approached by a policeman who said, Lady, you can't play with an ordinary golf ball. You're movie star. You'll have to use a coconut for a ball." ‒ Irene Dunne

"Like one's own children, golf has an uncanny way of endearing itself to us while at the same time evoking every weakness of mind and character, no matter how well hidden." ‒ Timothy Gallwey.

"I would like to deny all allegations by Bob Hope that during my last game of golf, I hit an eagle, a birdie, an elk and a moose." ‒ Gerald R. Ford.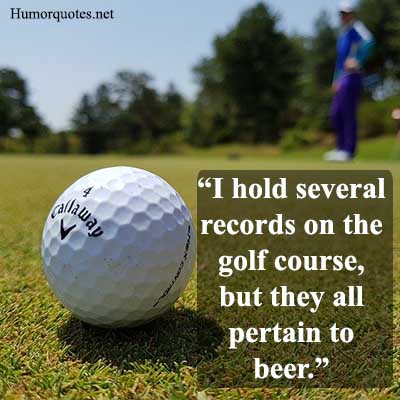 "I hold several records on the golf course, but they all pertain to beer."

"Golf is a day spent in a round of strenuous idleness." ‒ William Wordsworth

"The ardent golfer would play Mount Everest if somebody put a flagstick on top." ‒ Pete Dye

"I'm not saying my golf game went bad, but if I grew tomatoes, they'd come up sliced." ‒ Lee Trevino.

"The uglier a man's legs are, the better he plays golf – it's almost a law." ‒ H. G. Wells

"You build a golf game like you build a wall, one brick at a time." ‒ Tony Lema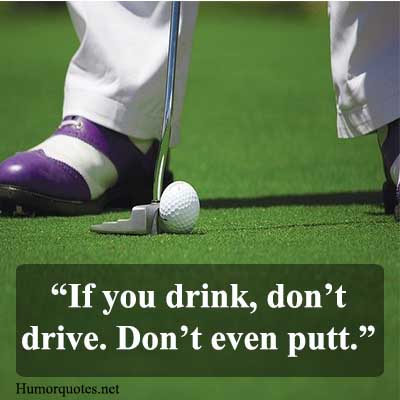 "If you drink, don't drive. Don't even putt." ‒ Dean Martin.

"Golf tips are like aspirin. One may do you good, but if you swallow the whole bottle you will be lucky to survive." ‒ Harvey Penick

"Golf is a fascinating game. It has taken me nearly 40 years to discover that I can't play it." ‒ Ted Ray.

"The reason a pro tells you to keep your head down is so you can't see him laughing." ‒ Phyllis Diller

"Golf is a worrier's game, inward, concentrated, a matter of inches, invented by the same people who gave us Presbyterianism." ‒ Robert Hass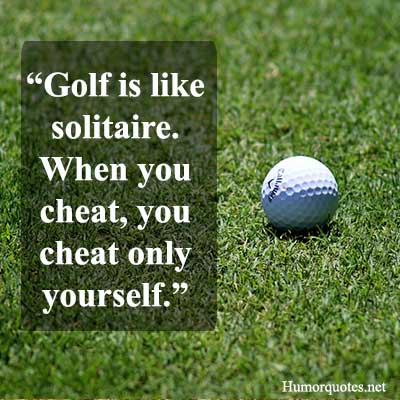 "Golf is like solitaire. When you cheat, you cheat only yourself." ‒ Tony Lema

"You have the opposite of poker face. You have like miniature golf face." ‒ Elizabeth Gilbert.

"Golf sits in that beautiful junction between perfection and frustration." ‒ Colleen Ferrary Bader

"You ought to take more exercise, if you're inclined to have a liver. Play golf." ‒ Daphne du Maurier

"I never play golf because it takes too long, and the business connections it produces can be made just as easily over an early breakfast." ‒ Eli Broad.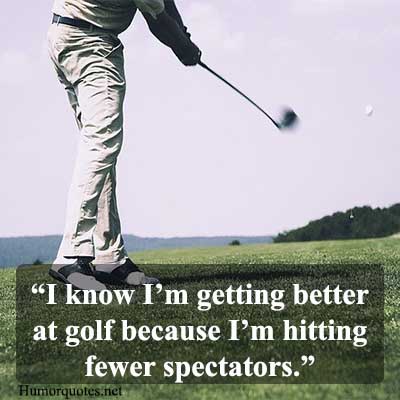 "I know I'm getting better at golf because I'm hitting fewer spectators."  – Gerald Ford

"Golf asks something of a man. It makes one loathe mediocrity. It seems to say, If you are going to keep company with me, don't embarrass me." ‒ Gary Player.

"It took me 17 years to get 3,000 hits in baseball. It took one afternoon on the golf course." ‒ Hank Aaron.

"The main idea in golf as in life, I suppose is to learn to accept what cannot be altered…" ‒ Bobby Jones.

"We learn so many things from golf: how to suffer, for instance." ‒ Bruce Lansky.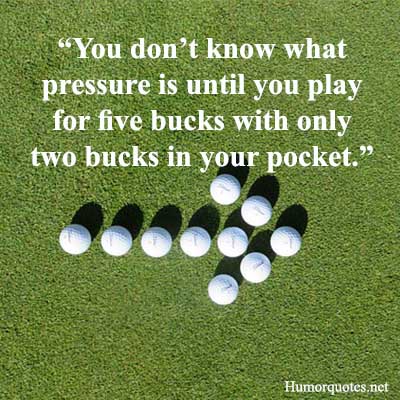 "You don't know what pressure is until you play for five bucks with only two bucks in your pocket." ‒ Lee Trevino.

"I have a tip that can take five strokes off anyone's game: it's called an eraser." ‒ Arnold Palmer.

"The only sure rule in golf is he who has the fastest golf cart never has to play the bad lie." ‒ Mickey Mantle.

"I've had a good day when I don't fall out of the cart." – Buddy Hackett

"The game of golf would lose a great deal if croquet mallets and billiard cues were allowed on the putting green." ‒ Ernest Hemingway.

"Golf without Jones would be like France without Paris: leaderless, lightless and lonely." ‒ Herbert Warren Wind

"While playing golf today I hit two good balls. I stepped on a rake." ‒ Henny Youngman.

"The only time my prayers are never answered is on the golf course." ‒ Billy Graham

"Golf combines two favorite American pastimes: taking long walks and hitting things with a stick." ‒ P.J. O'Rourke

"I'd play every day if I could. It's cheaper than a shrink and there are no telephones on my golf cart." ‒ Brent Musburger

"Golf: A plague invented by the Calvinistic Scots as a punishment for man's sins." ‒ James Barrett Reston

"And the wind shall say: 'Here were decent godless people: Their only monument the asphalt road And a thousand lost golf balls.'" ‒ T. S. Eliot.

"Forget your opponents; always play against par." ‒ Sam Snead.

"Consider the value of doing what you love and being paid for it! This is truly a golfer's dream." ‒ Lorii Myres.

"The great thing about starting golf in your forties is that you can start golf in your forties." ‒ P. J. O'Rourke.

"Just how childlike golf players become is proven by their frequent inability to count past five." ‒ John Updike.
Read More: Funny Boat Quotes