When a loved one begins to drift away, the moment is painful. The heart wishes that time would stop and that there would be a reason why it could not go. But the one who goes has to go. After he/she leaves, his/her love, his/her words are remembered.
When someone starts to go away, the heart wants to share something with him, to give him a message that will make him remember you. Are you also looking for something that you can share with your loved one then don't worry here are some 'emotional goodbye message to someone you love' for you that will tell your heart condition.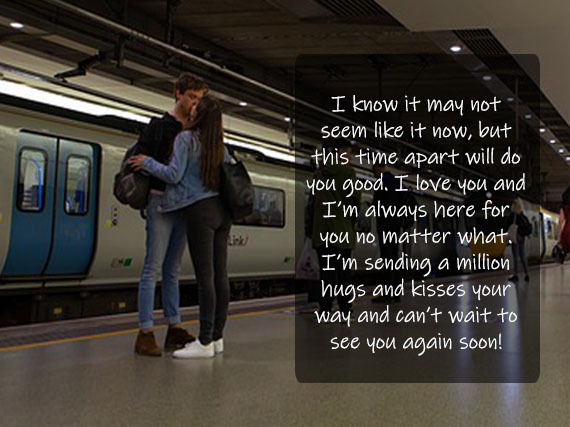 I know it may not seem like it now, but this time apart will do you good. I love you and I'm always here for you no matter what. I'm sending a million hugs and kisses your way and can't wait to see you again soon!
I don't want you to go, but you have to and now I'm crying. I am trying so hard to be strong through this goodbye, but I can't help it. You are my heart, my love, and when you leave a piece of me will go with you and the rest will start to slowly fade. I can feel my life slipping through my fingers, just like these tears falling down my face.
It's hard to leave behind a friend, but I promise to always keep you close in my heart. I love how you've become such an amazing person, fighting every day to make your dreams come true! Stay positive and never stop trying! I'll visit soon so don't forget about me, okay?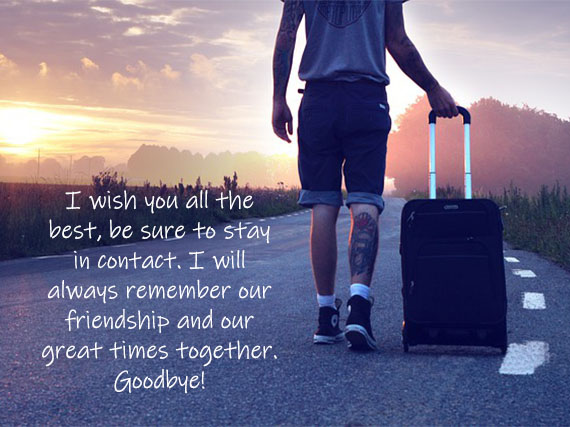 I wish you all the best, be sure to stay in contact. I will always remember our friendship and our great times together. Goodbye!
I know that I am hard to handle. I am hurt and scared but I have no choice because I need to be here. I don't blame you and this isn't goodbye. It's a case of me needing space and time. You are my best friend, the person I spend my days with, someone to laugh with, cry with and most importantly…love. Even though we are not together in body we will always be connected in heart!
I'm saying goodbye. I'm going to miss you, even though you've never really been there for me. I thought we were inseparable, but it's okay because I found someone who loves me for who I truly am. Someone that makes me feel like I can conquer anything in this world. You might not understand, but I hope some day you will. Just think about it and realize that one day you'll need me.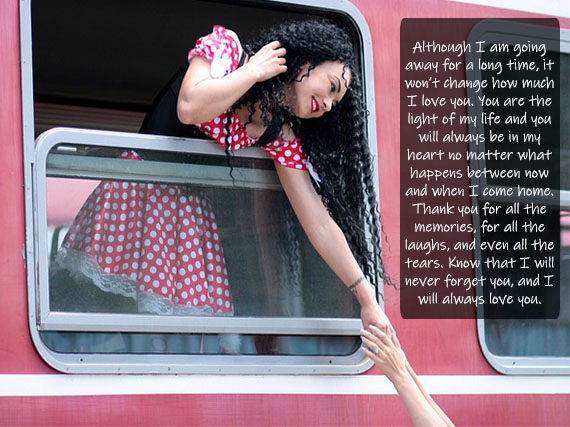 Although I am going away for a long time, it won't change how much I love you. You are the light of my life and you will always be in my heart no matter what happens between now and when I come home. Thank you for all the memories, for all the laughs, and even all the tears. Know that I will never forget you, and I will always love you.
Today you leave, but I will always love you. I'll remember the memories we shared and think of you every day. You meant so much to me that I wish you the best in your new life. Know that my door is always open for a friendly visit.
I'll always love you no matter what happens, where you go and what you do. I will miss everything about you. Your warm smile, the sound of your voice, your soft lips against mine. It hurts deeply to think I will never be able to hug you again. I wont be able to hear you call me "Babe". But I'm glad that I have had the time of my life with someone as amazing as you.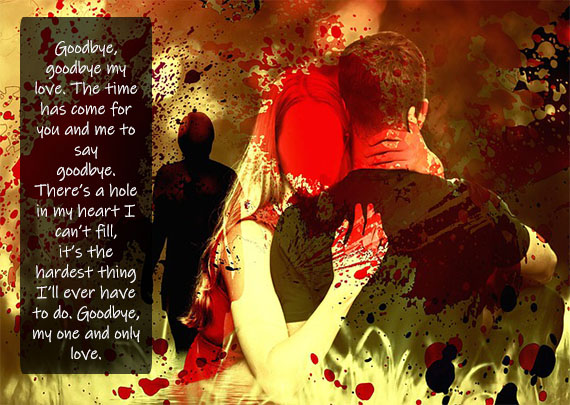 Goodbye, goodbye my love. The time has come for you and me to say goodbye. There's a hole in my heart I can't fill, it's the hardest thing I'll ever have to do. Goodbye, my one and only love.
This is the end my beautiful friend. If you were here, I would kiss you so hard and tell you how much I love you. You are more than a best friend to me. We have shared so many laughs, smiles and memories that nobody could ever take away from us. Our friendship will last through the distance, through the good times, and especially in the bad times. I'm so glad we found each other. I love you with all of my heart and soul.
It is with a heavy heart that I leave you behind, but with a smile that I think of you. Cherish this moment and remember me fondly. We both know it is the best thing for both of us. You have the love of your life waiting for you, and I have new opportunities awaiting me, I promise to do amazing things. Though our time together was short, it will always hold a place in my heart.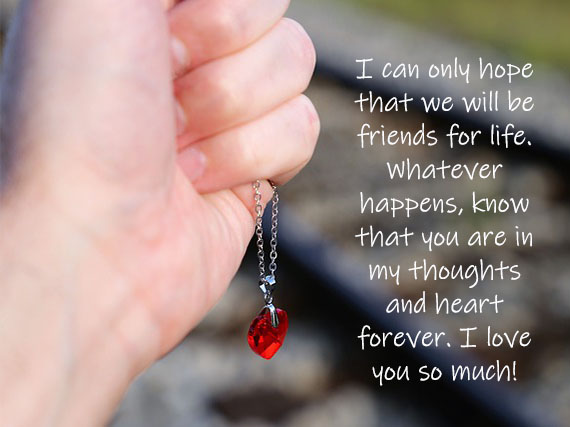 I can only hope that we will be friends for life. Whatever happens, know that you are in my thoughts and heart forever. I love you so much!
You were truly a great friend. I appreciate all you did for me, and I will miss you. You are a joy to be around, and I hope that your life brings you much joy. Thanks for everything, farewell Hi [name], I'm writing this letter because I know that you're in a better place now. I know that you found peace and you're at peace with yourself. I miss you so much! And I still think of you everyday. But know that you are always in my heart.
I love you and will always love you, until my dying breath. I can't bear to lose you, but wish for only happiness for you. I tried to fight it, even though it hurt like hell, but I'll never truly get over you. Goodbye my best friend, goodbye my soul mate.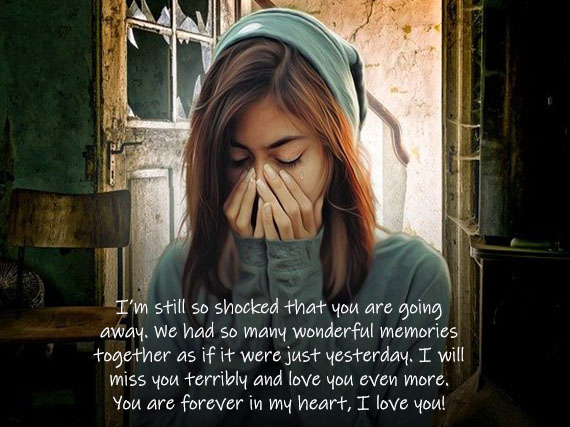 I'm still so shocked that you are going away. We had so many wonderful memories together as if it were just yesterday. I will miss you terribly and love you even more. You are forever in my heart, I love you!
You were the best thing in my life. I miss you, but if I don't say goodbye now, I never will. I hope things work out for you and that you find what you've been searching for. Take care…
Goodbye my love!! I wish you all the happiness in the world. I hope that you find a woman who will love and cherish you as much as I did. I want to thank you for this precious time we had together, and for making me such happy memories I'll never forget.
Everything I've ever done, I've done for you. No matter the risk, no matter the danger. If that meant I didn't have anyone in my life but you, I would have done it without hesitation. I love you with everything I have, and all that I am.
I will miss you so very much! I am so sad that we won't see each other daily anymore, but I do know that no matter how many miles separate us, my heart and love will find a way to reach you. If my tire goes flat I'll call you and ask for your help. If I have trouble with my dog I'll call you and ask if you can pet and care for him while I'm at work.
I'm going to miss you very much. It's too bad that we have to part ways, but I can't stay forever. You will be loved, appreciated and cared for endlessly. All the world's a stage and all the men and women merely players. All your life you'll have a fond memory of me. I hope someday you find someone just as great as I was! Wish them well, kiss them goodbye!
I knew you were special from the start. I don't know what I did to deserve such a beautiful soul, but I am forever grateful. You taught me that first impressions can be wrong. You slowed down a life that was moving too quickly, giving me a new outlook on things. Thank you for bringing so much happiness into my life and showing me how to love myself again. I will miss your Sunday morning visits, but understand you are where you need to be right now. I love you!
I know I wasn't the best boyfriend to you, and I'm sorry. Even though you're leaving and we will be apart, know that you are still my friend in my heart. I hope things work out for you in whatever it is you're going to do. Know that I will always love and support you.
I never knew that you were in need of a friend, but now I am very glad to be your friend. You will always have my support in your work and personal endeavors. If the conditions ever improve, I will be happy to meet you again. Please accept my apologies for not being able to say goodbye in person. Take care.
I never told you this but one of the things I really loved about you was that you didn't take yourself too seriously. I hope you hold true to that trait and find happiness in whatever it is you want to do.
No matter what happens, I am always here for you.  We have a friendship that cannot be broken by anything but death. You're one of the best friends I've ever had and I wouldn't change it for the world. I'm truly sad to see you go, but we will meet again.
I'm writing this letter to you because I don't want to tell you goodbye. I don't want to leave your side, but my heart is telling me that it's time for me to go. I'm starting a new chapter in my life and you can't be there with me, but that doesn't mean my love for you ends here and now.
First, thank you for the love and support you gave me. I will never forget you. If I ever meet another girl who is as kind and wonderful as you, I will find a way to be your friend, but don't expect it anytime soon. You mean the world to me and I will never forget the memories we shared. Thank you and goodbye!
I deeply regret the decisions I made when I first arrived in Atlanta. It was all a cover up to disguise the pain I was feeling at home. The truth is, I miss you and want to come back so bad. You were the first girl I ever loved, and you will always be the only one. If this letter can somehow reach you, please contact me as soon as possible.
To my love, my soon to be ex-husband. We had a good run and we overcame so much together, but I can't go on with this anymore. I'm sorry…We've been through a lot and we will no doubt be through more, but I can't handle it anymore. Goodbye.
Hey, I'm writing this letter to you because I'm not sure if it's my last chance to say goodbye. You see, I think I might not be strong enough to handle it all. I don't even remember why I ever loved you so much, as right now it feels like hard work. Maybe it's the first time in a long while, I see things clearly without your veil of lies and manipulation. Maybe it's the fact that you're with someone else, who knows?
My dear, I don't want you to take this the wrong way. I am not sure where this relationship is going but I know that wherever it is going we are both heading down the same path. I love you a lot, but I just don't love you like that anymore…
I'm awfully sorry that we had to end this, but I wish it didn't have to come to this. What started out as a wonderful friendship, soon turned into the most amazing love that I have ever experienced. As much as I hate to admit it, my feelings for you are too strong, and social media has become an addiction that prevents me from spending time with you. This really sucks because when I am with you nothing else in the entire world matters…
Read More: Trust Love Messages for Distance Relationship